Sweta Singh Trolled Sagarika Ghose When She Gets Irritated By Her Friend Tarun Tejpal's Rape Case News Coverage In Media
On the day Tarun Tejpal was arrested in 2013, The news was big and was covered by all the channels. Sagarika Ghose was really upset with this and she questioned: "Why the Rape Charges are questioned on Tarun Tejpal".
Many will be wondering why she is irritated by rape case of Tarun Tejpal(From Tehelka) media coverage, then check this below tweet where she is saying he is her friend.
Meanwhile, people on Twitter gave her a perfect reply and exposed her hypocrisy: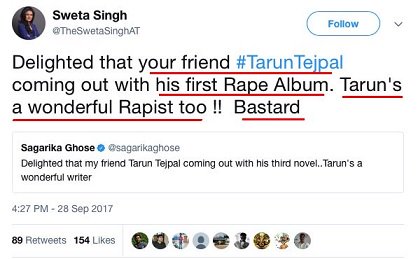 https://twitter.com/iDilsay/status/913385242139885569?ref_src=twsrc%5Etfw&ref_url=http%3A%2F%2Fwww.thelotpot.com%2Fslap-sagarika-ghoses-face-twitter-siding-rapes-see-new-tweet%2F